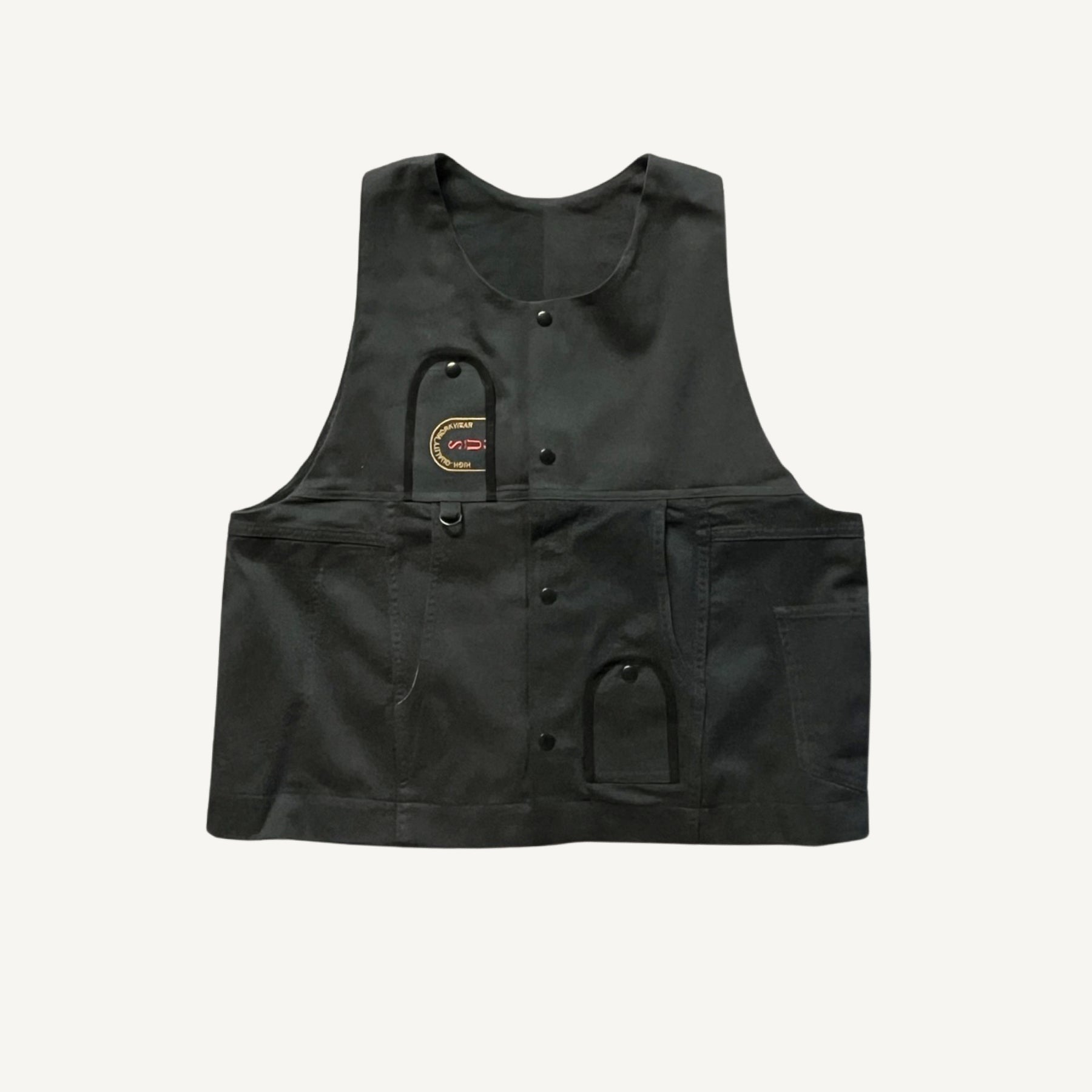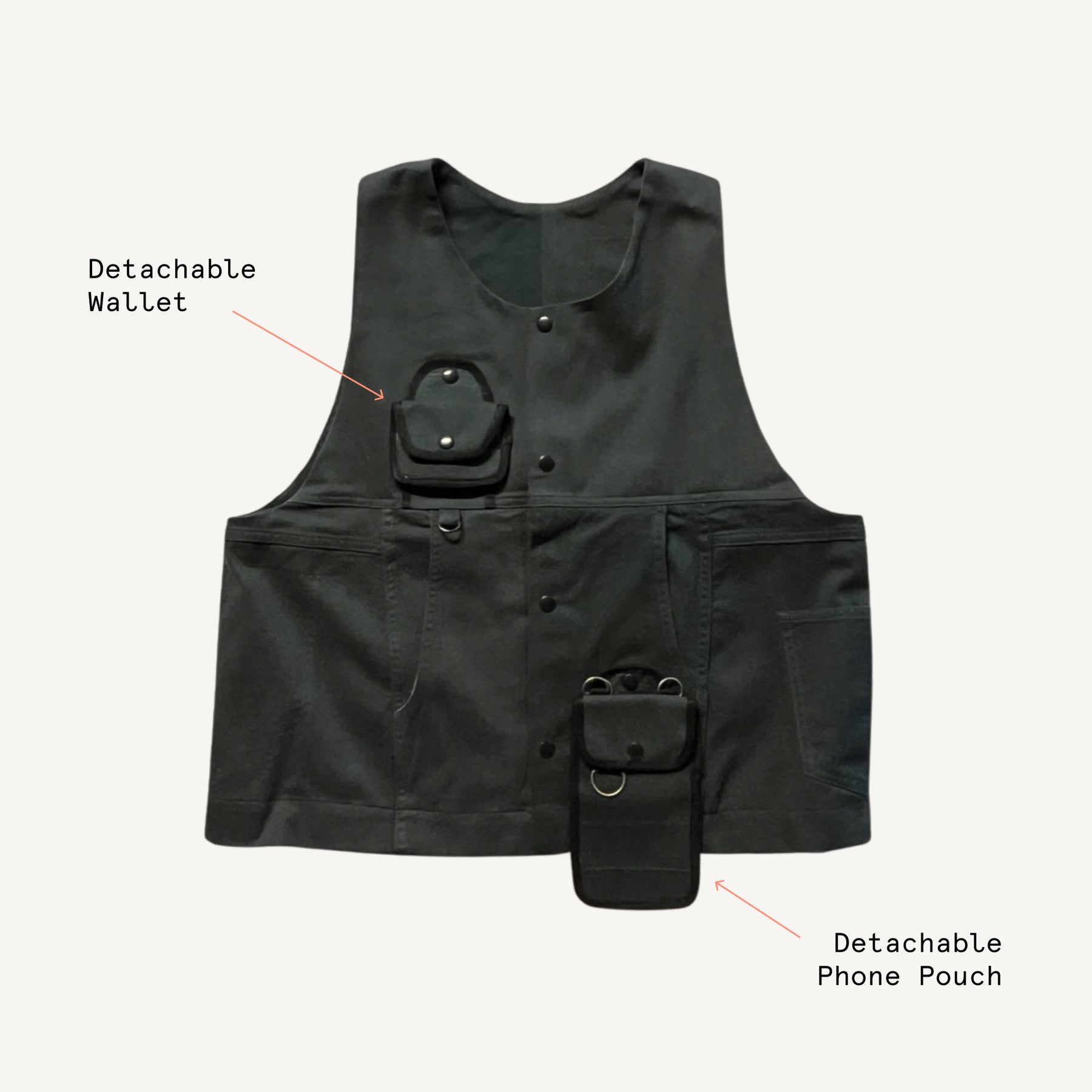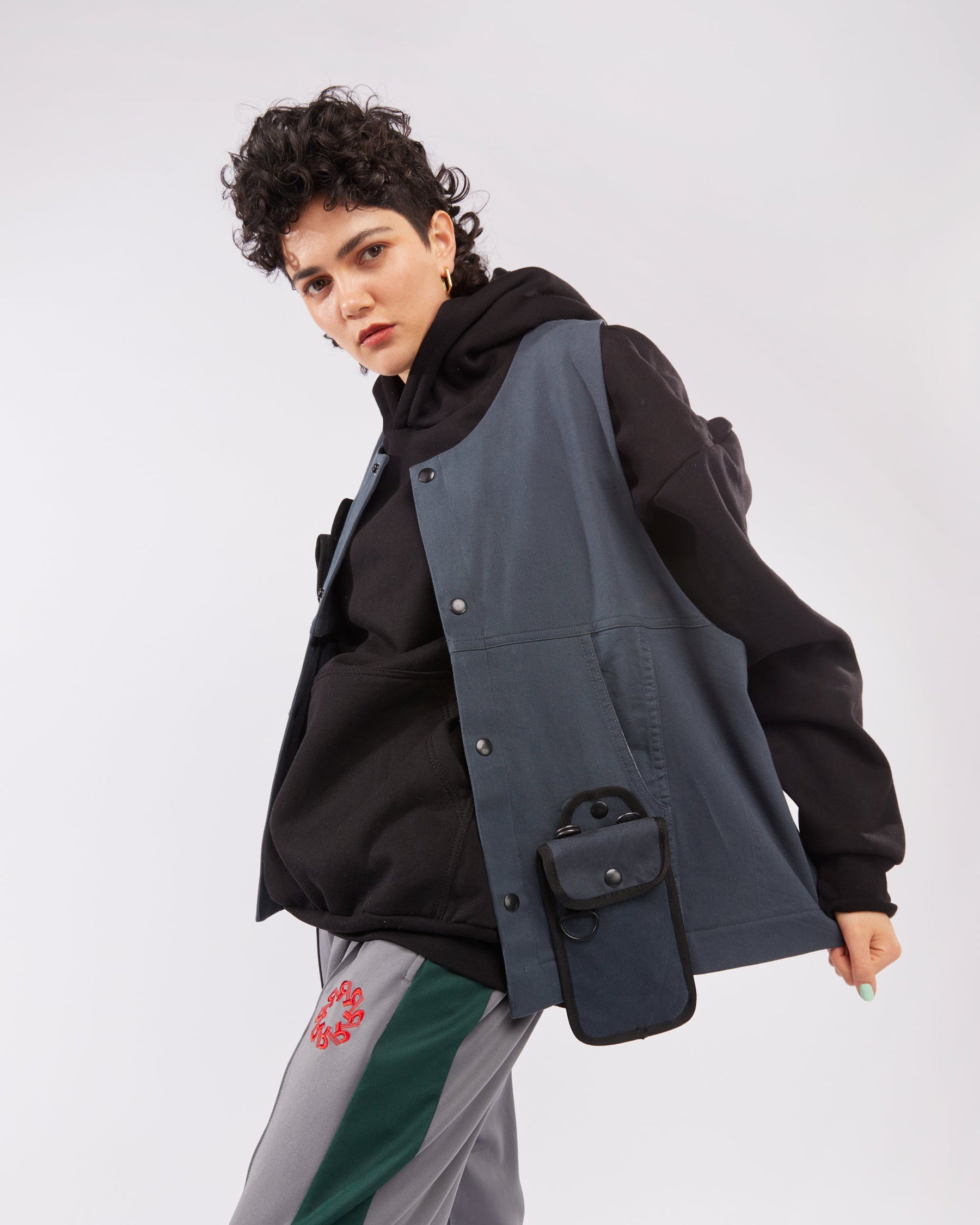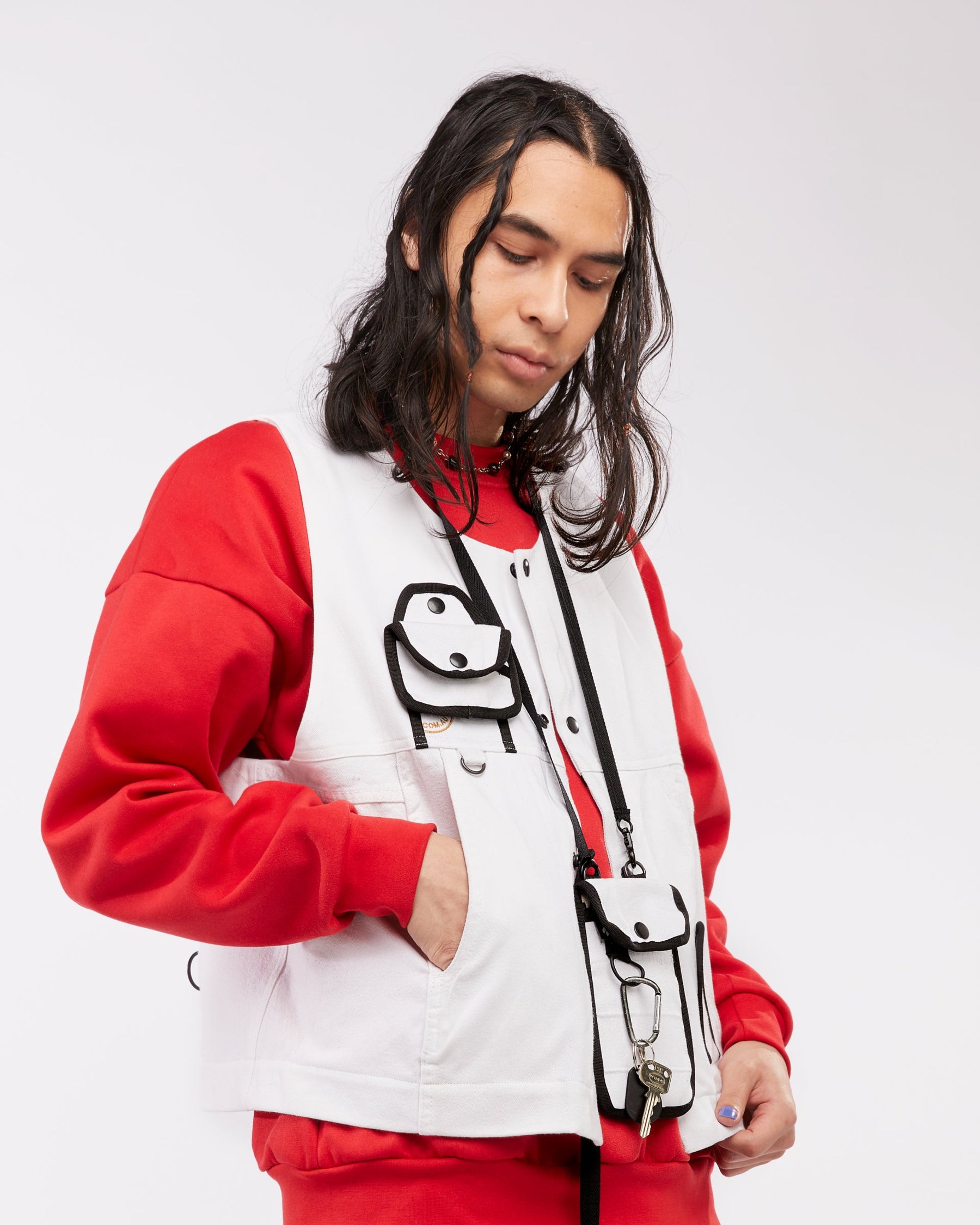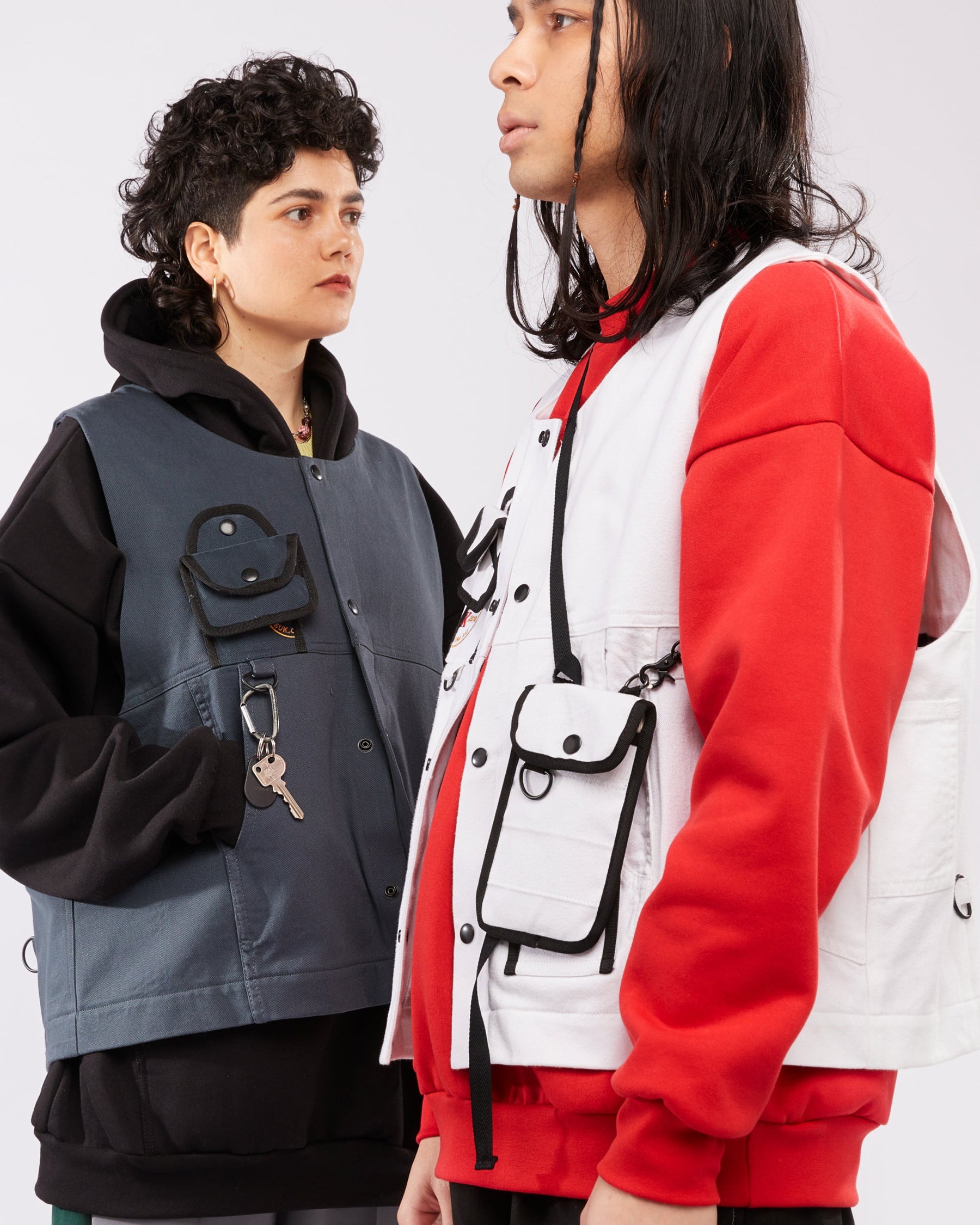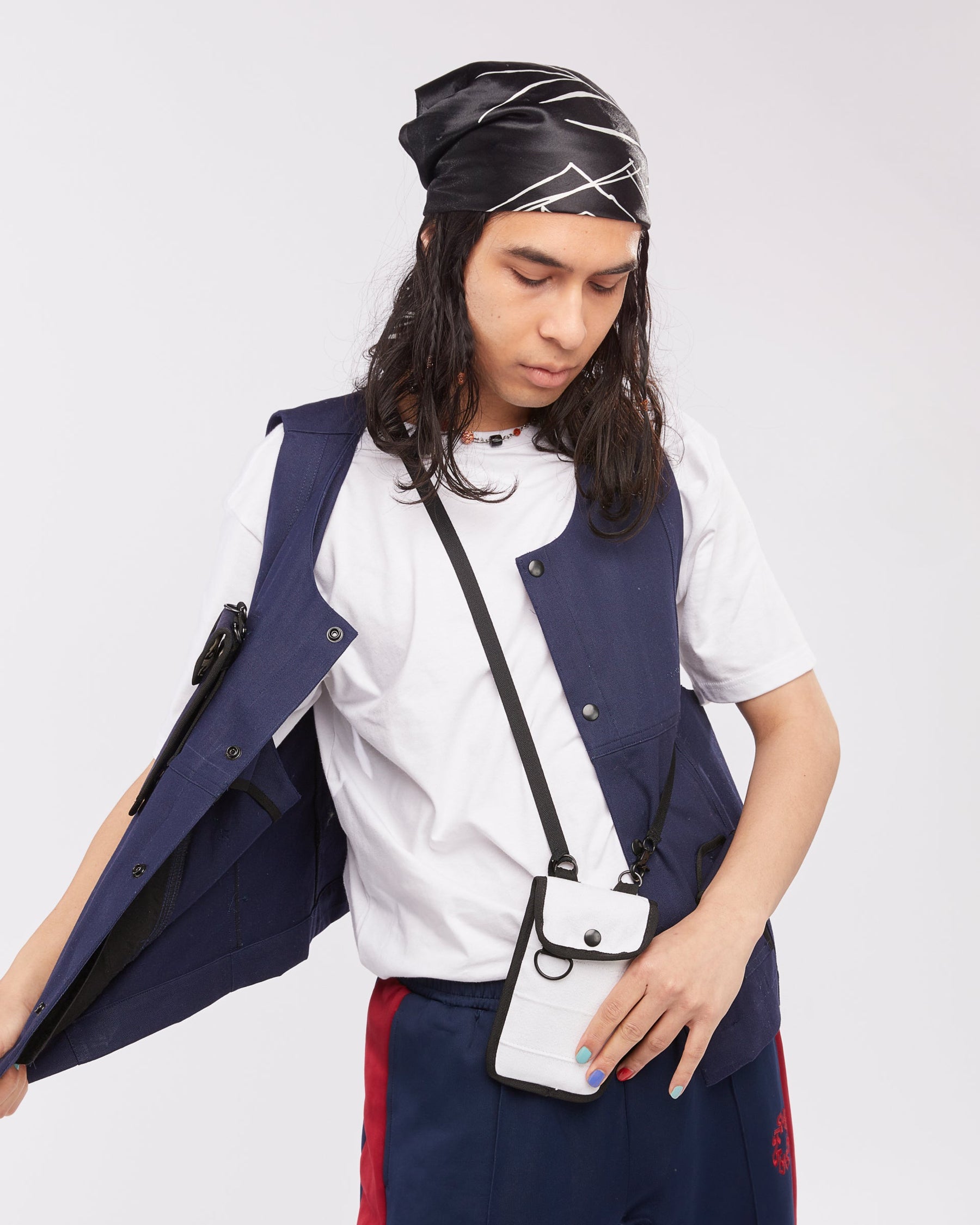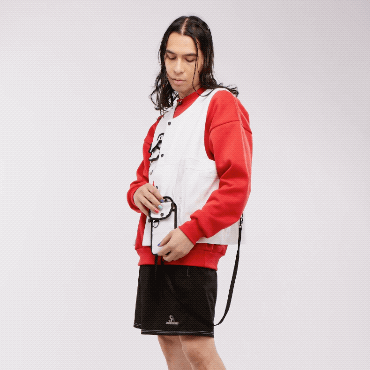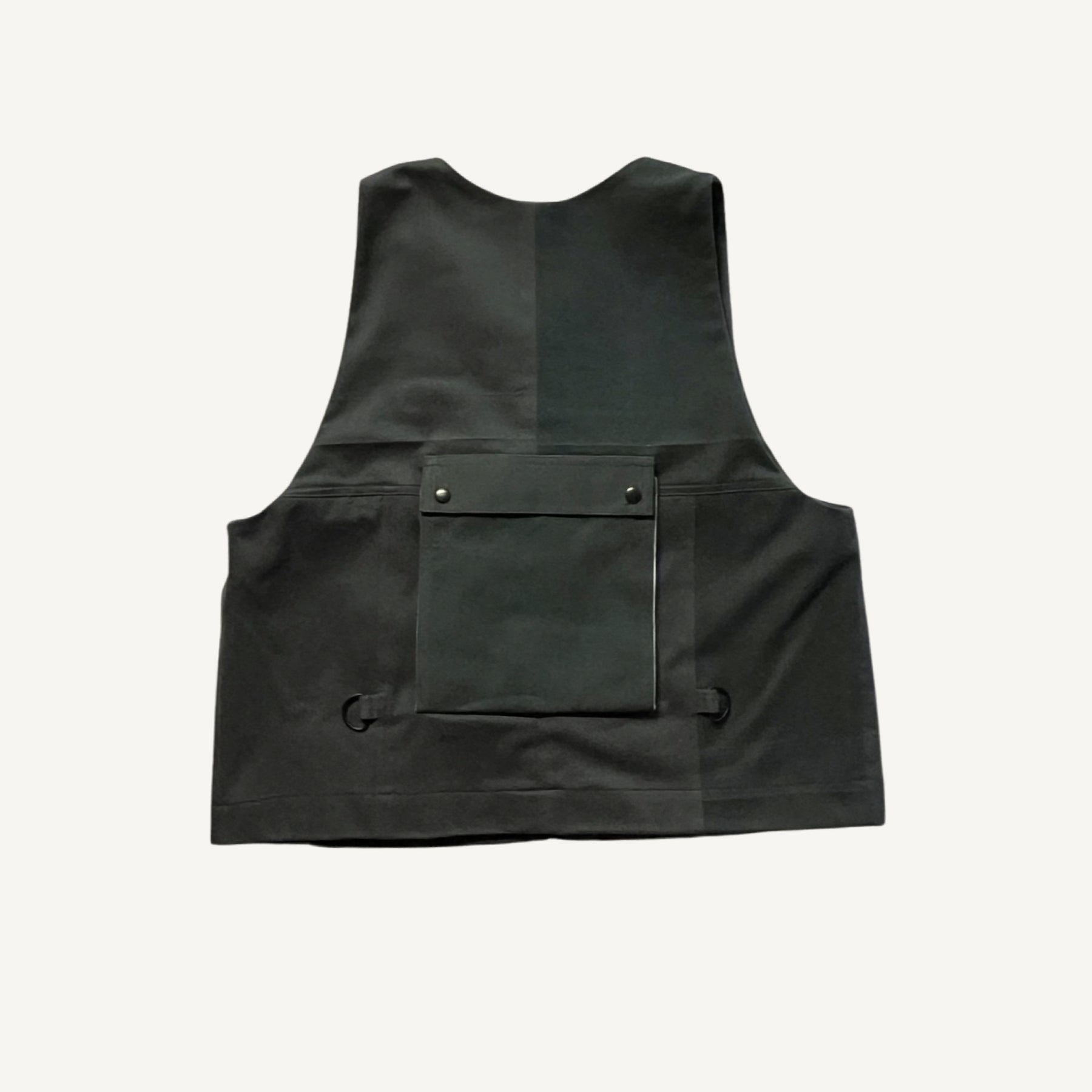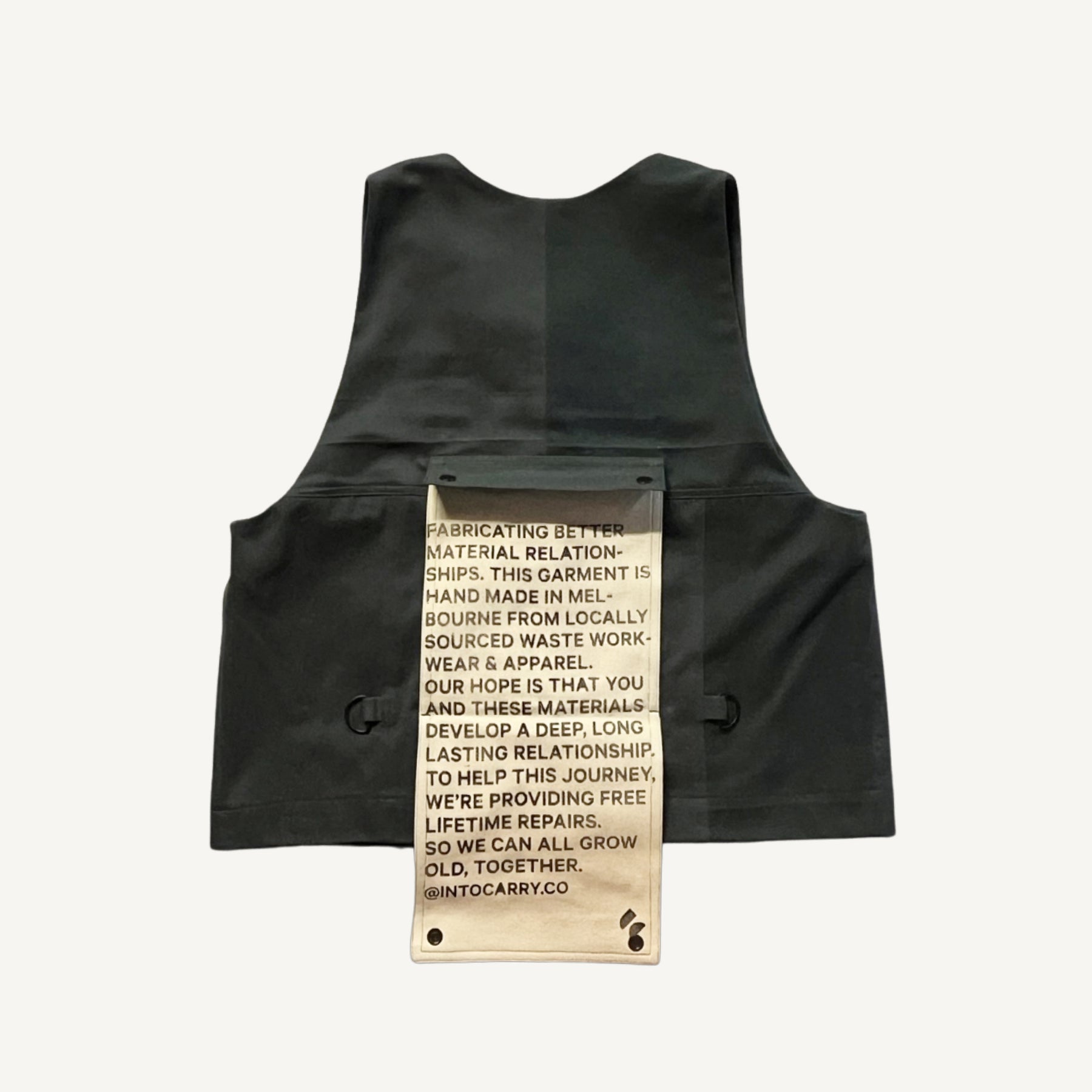 FFWL x Into Carry
Off The Shoulders // VEST
This collection blurs the lines between a piece of carryware and a fashion garment. It bridges accessories and clothing into one functional garment fitted with the carry essentials needed for everyday urban life. In this literal sense, the collection takes weight off the shoulders and distributes it over an entire garment. The collection also intends to take a load off the mind of the sustainably conscious fashion wearer. Providing a completely locally upcycled, handmade set of garments that are built to last a lifetime of wear. 
Why we designed this collection.
The bags we carry every day are urbanised adaptations of military and hiking innovations. Considering urban day jobs don't involve day hikes, carrywear designed for the people, possessions and routines of the urban environment is long overdue. As the goods we carry get smaller and our lifestyles become more complex, Into Carry calms the chaos of modern work- life with simple, accessible ways to carry everyday essentials. 
The Collection.
What if you didn't need to carry a bag? In the chaos of modern work-life, we crave simplicity. But as our lifestyles become more complex, carry designers respond with more bags, more pockets and more compartments. This collection explores a set of outerwear that takes responsibility for the daily essentials needed to navigate everyday urban life. 
The Vision.
Into Carry's north star is to change relationships with material resources. To do this we challenge current value perceptions of the materials we use. Modern material worth is determined by scarcity and branded stories. To break this pattern, we craft premium products from everyday waste materials and champion it as the high quality resource it truly is. 
Right now, sustainability needs to be exciting, educational and accessible. This collection ticks each of these boxes by reimagining existing garments into new products. Each piece tells its own story with design details labeling each material's story. Our hope is these pieces are worn on the street, provoking conversations and awareness for a sustainable future.
Unisex Size Guide
Models wearing L/XL
Models usually wear size 8 (black jumper) & XL (Red Jumper)
Loose fit. Built to be worn over layers
Designed to fall higher on the hip than a jacket
S/M -  Waist: 570mm left to right // Back Length: 600mm
L/XL -  Waist: 610mm left to right // Back Length: 620mm
Free shipping Australia wide on orders over $50. All parcels are shipping in composible mailers with composible labels, tape and a 100% recycled product card from local legends Dodgy Paper.
Buying goods online can be a risky game (we've been burnt before). To ensure you're happy with your product, we offer 30 day returns. Not available on custom made products.
Wow my world just opened up...can't believe this beautiful bag is made from what we throw away.
Absolutely terrific! Love the bag so much that I wish I bought it earlier.
Sleek, durable and sustainable. Literally all the things I wanted.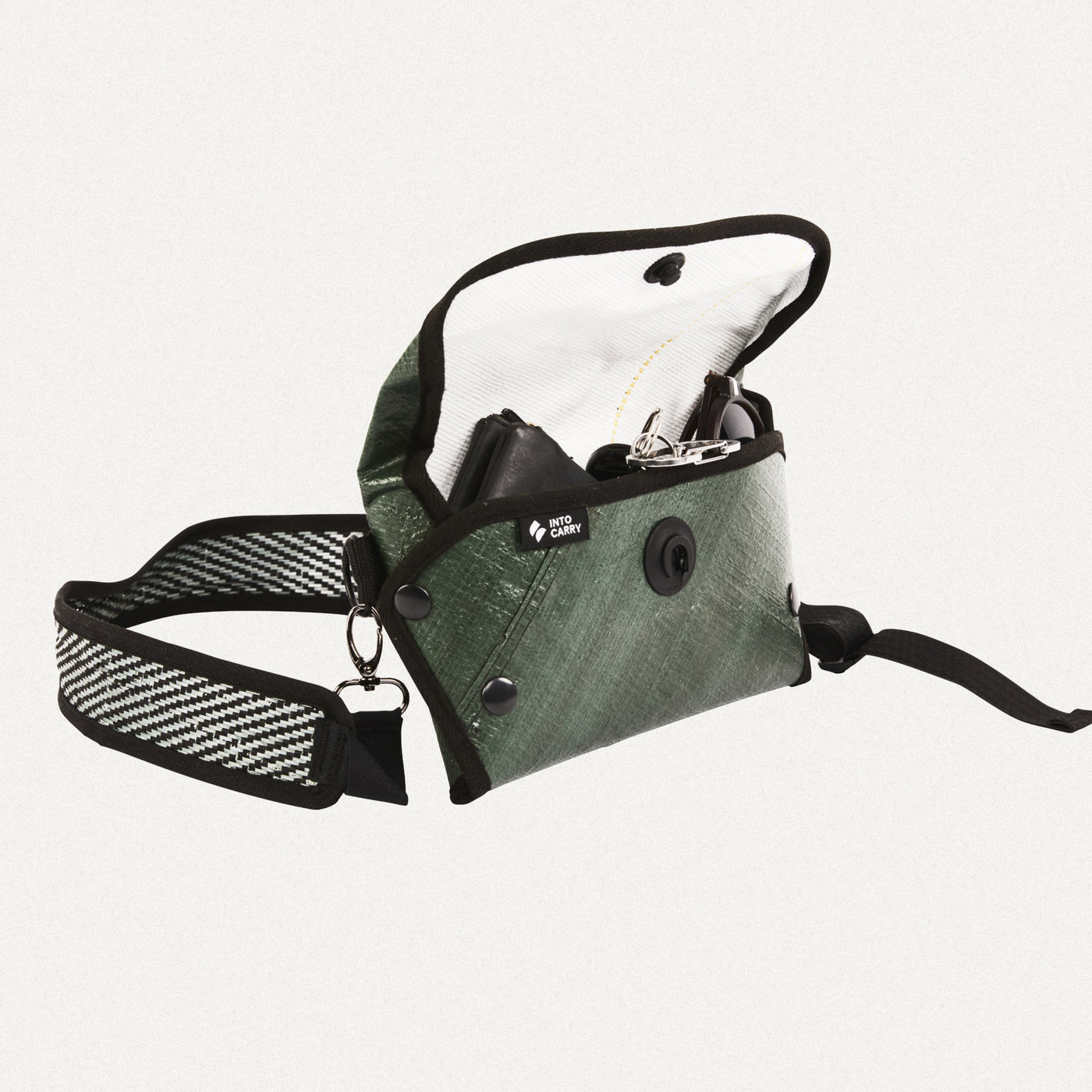 LONGEVITY
Compact & Reliable
Small on the outside, spacious on the inside. You can rely on these practical, low fuss carry companions to handle your everyday essentials.
for life
Normalising Repairs
The most sustainable product is the one you don't buy. Let's make fixing something easier than buying a new one. If your bag has an accident, we'll get you back on the road. For free.
#normaliserepairs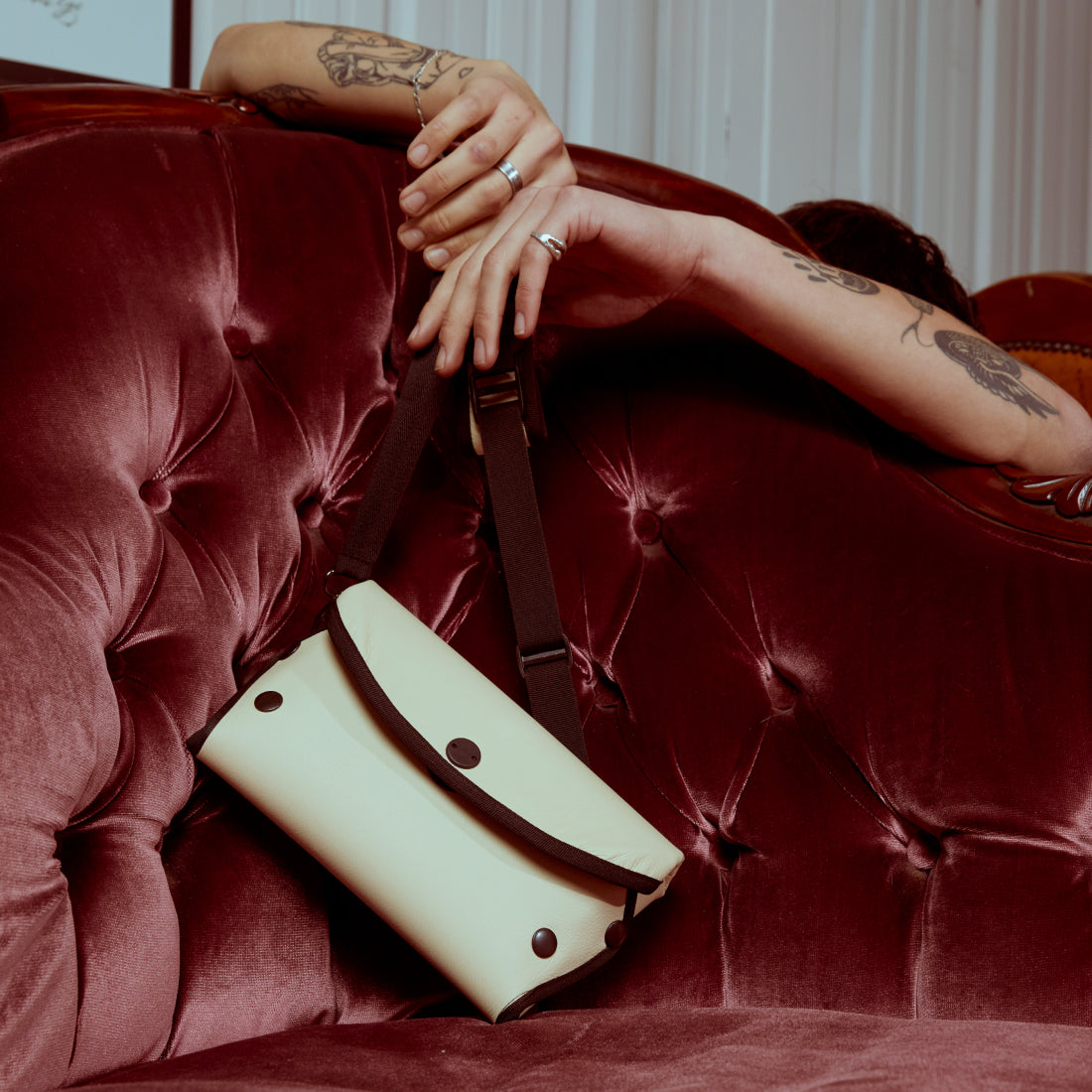 quality
Handmade Craftsmanship
Our small team of three handcraft every piece of Into Carry in our little Collingwood warehouse. Located out the back of zero waste cafe; Into Coffee.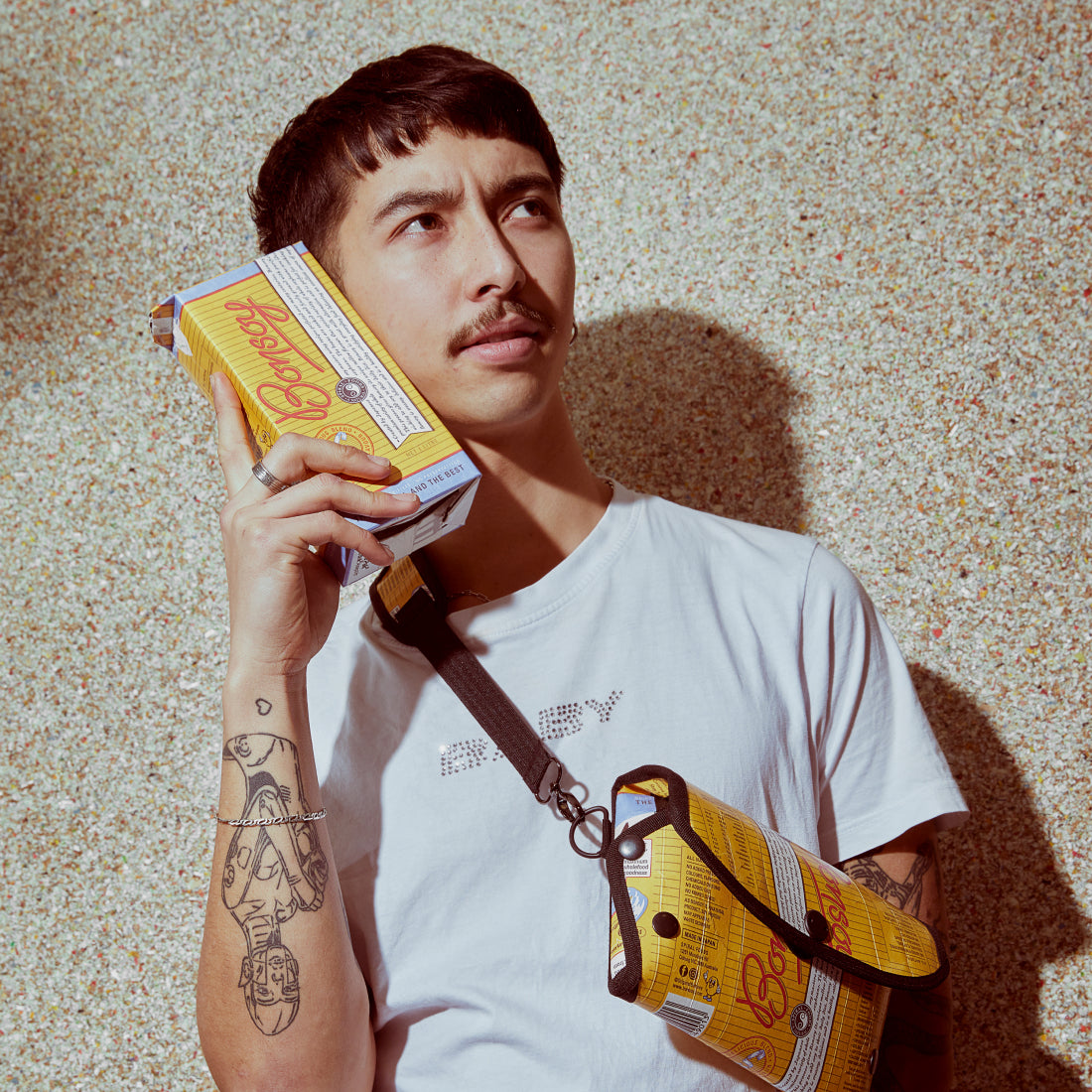 Earth's Favourite Bags
"Oh, hello Earth. Lovely to hear from you... What's that?... You prefer we stopped feeding you trash. Whaaaaaaat?... Right. Ok. Well, there's actually a shit load of it over here, we'll see what else we can do with it.."